Thoughts over a picture of clouds!
Competitive Mode in Overwatch is pretty ruddy high stakes, as players desperately try to improve their Season High (I for one would gladly give up all my favourite childhood memories if it meant slightly more SR) but this boiler room pressure can lead to players' gears being ground so hard, they won't even be collectible as armour.

To help prevent you from winding up your fellow team mates, here are the 7 Annoying Behaviours in Overwatch Competitive Mode for you to avoid.

​1. FLASHING FOR SOMEONE TO PLAY MERCY… THEN PICKING GENJI.
This is more of a console behaviour (simply due to PC users being able to message each other) but good God it's annoying.

Someone sees that the team is rather light on healers/tanks BUT instead of picking up that gauntlet, they flash on and off the character they feel is missing (98% of the time, it'll be Mercy). Then, regardless of whether anyone fills this role, THEY PROCEED TO CHOOSE A COMPLETELY DIFFERENT CHARACTER (98% of the time, it'll be Genji)!

If you see that the team is lacking in a role that you have no intention of playing, just keep quiet… like a ninja.

2. PICKING A THIRD DPS.
We're bored of saying "222". We're bored of hearing "222". But it works. At least for the beginning of the match, 222 is a solid composition; two DPS, two tanks, two healers. Maybe it will need changing up later in the match, but to begin with, just assume 222. Say it with me… "Two Two Two"

Unfortunately, that means that if two other people on your team were paying more attention to you and have nabbed those sweet, sweet DPS roles, you're going to have to suck it up and be either a Tank or, heaven forbid, a Healer.

Can't/won't play a Tank or Healer? Then you shouldn't be playing in competitive mode.

And if you pick a fourth DPS, you shouldn't be playing computer games.

​3.PUSHING TOO FAR AT THE START.
Look, we get it; you're a lone wolf; a maverick; an island. You work alone. You, and only you, can drag this rag-tag group of losers to victory, as long as they stay out of your way. You don't need anybody's helOH LOOK AT THAT! YOU'RE DEAD! WHAT A SURPRISE!!!

What did you think was going to happen?? You went 1 against 6! And even if you managed to eliminate one of the other team, they're a lot closer to the spawn point then you are.

Chill out and stay with the team. Trust us, you're not that good.

Art @bulbamike

4. I NEED HEALING! I NEED HEALING! I NEED HEALING!
If you're not saying this whilst running towards a healer, it's just noise. Don't expect healers to come find you, especially if you're saying it as you sprint towards the horizon!

(See 3.)


5. STAY WITH THE PAYLOAD.
I think it takes a while to learn this fundamental lesson of Competitive Mode…

IT ISN'T ABOUT HOW MANY ELIMINATIONS YOU GET.

I know! Who woulda thunk??

What Competitive Mode is about is holding a point or escorting a payload, which is all about proximity – you need to be near or on the thing you're protecting or attacking. If you go off on a jaunt to do some murdering, don't be surprised when everyone else is frustrated that you're not supporting the basic objective of the mission!


6. GET ON THE POINT.
This is pretty much the same gripe as above but for Control maps. It doesn't matter what you're doing running around the map, if you're not spending time on the point, you're not helping.

AND… big gripe here… if the enemy is about to win the game, GET ON THE POINT!!! JUST GET ON IT!! Those few seconds of contesting (before you're shot apart by a barrage of bullets and lasers and soundwaves) could be the difference between your team getting back in time with a sweet Ult and losing the game.

This includes using Junkrat's riptyre in overtime.

GET ON THE POINT!!

7. REPEATEDLY SWAPPING CHARACTERS
I'd like to think that this behaviour comes from a good place; that someone is just trying to find the right character but, like Tommy Lee Jones says in Captain America: The First Avenger, "Wars are fought with weapons but they are won with Ults!" (or something like that). By swapping characters, you are denying your team your much-needed D.Va bomb.


​8. LEAVING THE GAME BEFORE VOTING ON AN MVP
Don't be petty; just give someone a vote. Even if you don't care about this stuff, it's sportsman-like and literally just a single button push.


​9. FINALLY, ALWAYS REWARD THE SUPPORT!
Much like being a nurse, teacher or a list writer, healer is a thankless job so if there's one on the MVP screen, let them know your appreciation (nurses, teachers and list writers too)

Anymore annoying behaviours that you can think of? Pop them in the comments below!

GARY TRO is a stand-up comedian whose new show IDOIT will be at Edinburgh Fringe Festival Aug 2-26


Gary tro

Comedian. Vegan. Gamer. Nerd.

Archives

Categories

RSS Feed
Powered by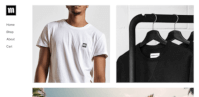 Create your own unique website with customizable templates.